The Ethiopian dictator made   u-turn and decided to prolong it stay in Somalia mongering war since the northern front with Eritrea seems is now no menace though a continues fire exchange is live  near Badme town from our reporter in the area .    And Somalia has been chaos since warlord's toppled Dictator Mohamed Siad Barre in 1991. And since 1998 has been a continuation of the war between Eritrea and Ethiopia.
Big pretext given by the Melees Zenawie to keep its troops in Somalia – "until the Horn of Africa country ratifies a constitution and its military is able to fend off militant threats on its own. "  Ethiopian forces captured the rebel stronghold of Baidoa in southern Somalia in February having seized Baladwayne from the militants and started evacuating when the conflict with Eritrea rekindled two weeks ago.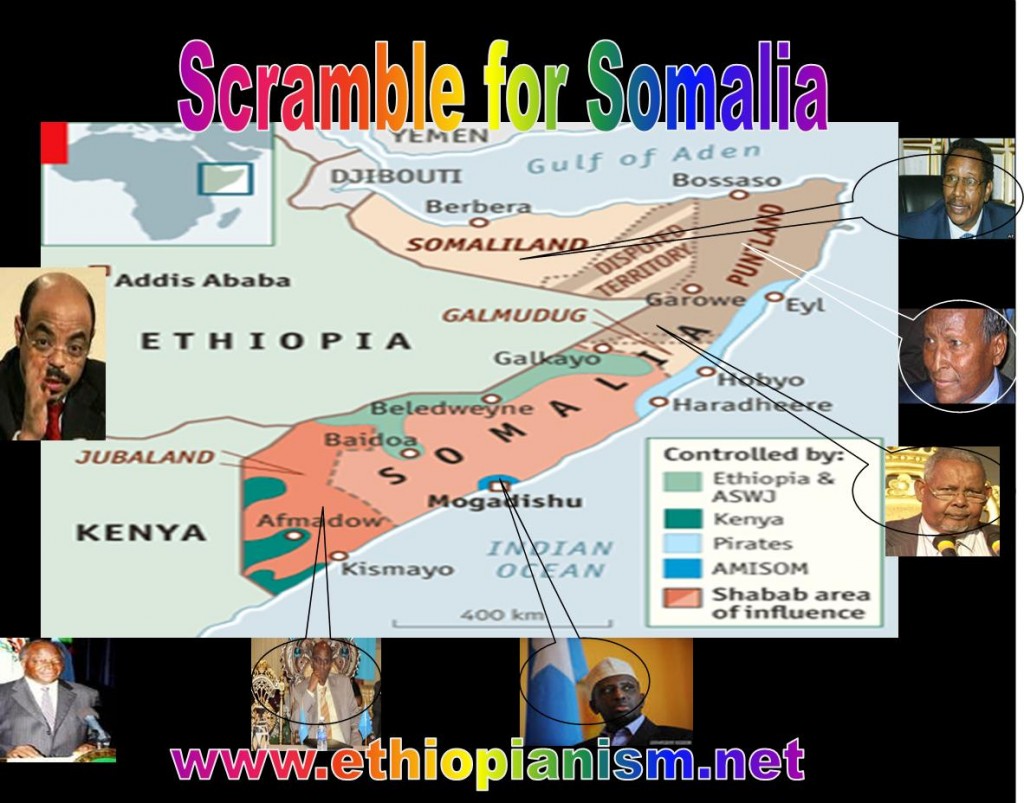 Melees  Zenawie the irredentist dictator join the scramble for Somalia by rolling hundreds of troops across its border in November by  opening  up a third front  against Shabab, the two  main underline    reasons are
– competition with Kenya for controlling the big portion of oil rich southern  Somalia,
–  and the fight with Eritrea since its ill-fated 2006-2009 incursion.– Ethiopia is to this day training and arming the different faction of Somali clans, while   Eritrea is armed and trained Alshabab.
Once again  Ethiopian dictator declared that his  troops would only be deployed for a brief period to fight Alshabab  militants.  Later is  also  affronting 11,000 strong African Union  (AMISOM) forces  and Kenyans  fighting to controlled the Azania corner oil rich  Juba land as a "buffer zone". .
This new 180 degree turn of the  Ethiopian dictator  stopping his sudden evacuation was justified in the following propaganda :-
"It (Ethiopia) will remain (in Somalia) until the Transitional Government (of Somalia) has adequately organized itself to fend off any attack from hostile forces,"  "There is no current plan to evacuate from Somalia until such time that a proper Somali constitution is ratified by all parties to the conflict, and until the constituent assembly will ratify the constitution,"
The new million dollars of US aid recently granted may be forced him to stay since he got a new indirectly mandate.
Last June Somalia's feuding leaders agreed to extend the mandate of a transitional government for a year rather than hold elections, a move sought by Uganda which has peacekeepers stationed in the anarchic state.
The mandate for Somalia's latest administration was meant to expire in August 2011 but President Sheikh Sharif Ahmed, a former Islamist rebel leader, and speaker Sharif Hassan Sheikh Aden, who covets the top job, had been at loggerheads over what should happen then, and agreed to defer elections.
Alshabab seems strategically  have surrendered territory in Mogadishu and across central and southern Somalia in the past few months weekend by AMISON forces where the Eritrean support is no more reaching crippled with sanction of 2008 and December 2011
AU and Somali government troops seem to secure little aid corridor between Mogadishu and a former rebel stronghold close to the capital. By the end of the month, Somali and Kenyan forces had captured the rebel stronghold and strategic town of Afmadow; but never able to capture the capital of Alshabab Kismayu.
Seizing Afmadow was considered a crucial step in the Kenyan drive towards the southern port city of Kismayu, the hub of al Shabab operations, about 120 km (75 miles) away.
Alshabab in areas they have vacated they are launching grenade attacks and using suicide bombers. The rebel group has waged a bloody five-year campaign to topple Somalia's Western-backed government and impose its harsh interpretation of Islamic law with the support of Eritrea.

It continues to hold swathes of central and southern Somalia with help of Eritrea only against 11'000 AMISON Forces with Kenya and Ethiopia included.