The recent Ivorian election has taken the foot step of Ethiopian and Kenyan elections  to contest the result and push the winner to exile if not prison, otherwise pressure  to power sharing. This model is set by Melese Zenawie in 2005 and later followed  by Kenyan  elections.
Ivory Coast is known for decades of prosperity and stability in the coup trodden region; its cocoa plantations known worldwide. When it comes to political alternation through election did not follow its immediate neighbor Ghana to riches   rather highly influenced by the Horn African's model which is leading to instability and civil war.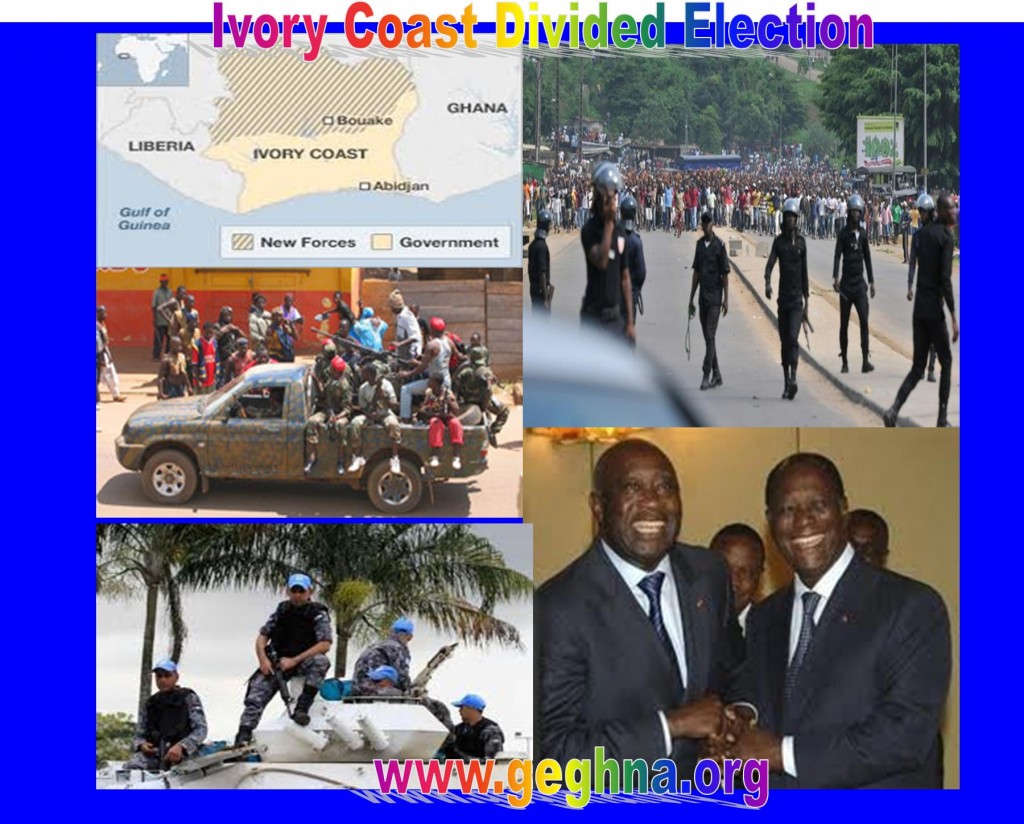 Like the Ethiopian and Kenyan elections  loyal groups both candidates  claiming Ivory Coast's presidency clashed in the streets of the commercial capital Thursday, killing at least 20 people and in  verge of another civil war.
Abidjan start taking the sprit Addis & Nairobi of Explosions and gunfire were heard throughout…
They shot a rocket-propelled grenade hitting an outer perimeter wall of the U.S. Embassy.
Since 28th of November election runoff Ivory Coast has been operating with two presidents and two governments.  Alassane Ouattara was declared the winner by the country's electoral commission and was recognized by the U.N., U.S., France and the African Union as having beaten incumbent Laurent Gbagbo. However, the constitutional council overturned the results after invalidating a half-million votes from Ouattara strongholds.
The bloodshed in Abidjan is part of a risky push by Ouattara to take control of state institutions after the balloting that many hoped would reunite the West African nation following a 2002-03 war that split it in two.
Amnesty International warned that the regional powerhouse "has never been so close to a resumption of civil war.
According to the associated press, a senior Obama administration official said the U.S. and other countries have told Gbagbo to step down and leave the country within days or face travel and financial sanctions, and there are signs Gbagbo might agree to leave. He has like Melese Zenawie of Ethiopia has homes in multiple countries that he would not be able to use if sanctions are imposed.
The Riot police fired tear gas ordered by Gbagbo to use live rounds to disperse protesters in multiple parts of the city.
Ouattara supporters marching in the marketplace early in the day were confronted by and shoot at.
According to Associated press: – "They shot him in the stomach with a tear gas canister at point blank range," said protester Ahmed Konate. »He fell to the ground in a cloud of gas and didn't get up. He was dead."
Ouattara is supported from the rebel-held north, while Gbagbo's power base is in the south. He plans a second march Friday 17 December to take back other government buildings and hold a Cabinet meeting and called on his backers to help him take control of state institutions. On Thursday, they had vowed to march to the national television station to install a new state TV chief, but they did not get close to the building and were fired at causing victims. The two stations in the building are the only Ivorian broadcasters in the country.
The U.N. Ban Ki-moon has warned the politically charged environment could spark a new civil war.
Prof. M.T.