The man in power in Uganda since 1986, President Museveni's ordered his army to shoot at everything that moves the streets of Kampala like his friend Gaddafi in Misrata. It was  best  demonstration his dictatorial behavior which is similar to that of Gaddafi and Idi Amin Dada when his soldiers wounded a child in the streets of his capital today.
Uganda as a nation is start seeing the return of Idi Amin's times when Museveni could not help the rising prices of basic commodities and fuel, and the loss of life and pain inflicted on them by his forces. Rather he bloody confirmed that the rising prices of food, is good news to farmers like Melese Zenawie of Ethiopia.  Musevine in Kampala and Melese in Addis Ababa  Knew well and good the high prices of food commodities are due to a number of factors beyond farmers' control or could be controlled  by artificially imposing prices like in Ethiopia. It seems the African dictators are far disconnected from the reality on the ground.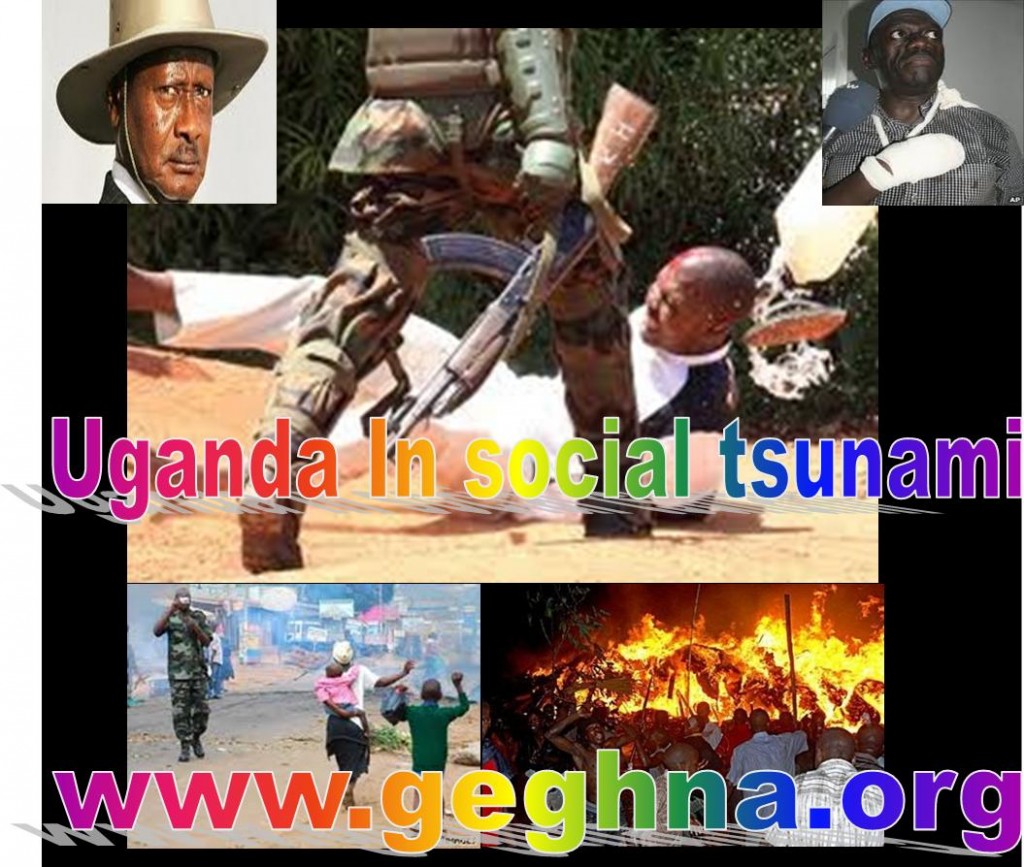 First, prices are high due to low food production. It is simply  when the supply is low, prices tend to be high and vice versa. Farmers are not going to  reap money from rising prices just from the air. The Dictator of Kampala is responsible for the t negligence in the agricultural sector is to blame for the food scarcity and hence high prices and poor living conditions like his collage in Ethiopia Melese Zenawie. The later is megalomaniac is  building dams while over 2 million Ethiopians are starving to death.
The great lakes dictator dream that Uganda could become a food basket for Africa  is far from reality.
Like in Ethiopia the Ugandans are disappointed by the way the nation's resources and money have been spent- purchase of the multi-million fighter jets. Again like Ethiopia  Ugandans need today is ability to feed their children, send them to school and be able to meet basic health care services. President Museveni is aware that sophisticated weaponry does not necessarily ensure the survival of a government since he defeated the mighty army of Milton Obote having started his guerrilla group with only 27 guns and his friend  Melees to defeat the great army of Mengistu Haile Mariam with few university drop outs. Nor the great  Death dam in Ethiopia will save Melees Zenawi from the coming Social tsunami.
What keeps the government in power and ensures the safety of its nationals is the WILL of the people. It was people's will that brought President Museveni to power. Once people lose trust in the government, it cannot survive anymore. Gaddafi has got all sorts of arms but used it against his won people. Therefore, why should the nation waste all this money on weapons in Uganda and Dams in Ethiopia while people are starving in both countries?
In Ethiopian and in Uganda the only enemy one can think of is the opposition; those individual  who do not share the same political ideology with their respective  current regimes.  Not surprisingly, all the arms purchased will be used to kill nobody but Ugandans! And all the dam waters on the Nile will be used to irrigate the grabbed starving farms fields.
© 2011, Prof. Muse Tegegne. All rights reserved.