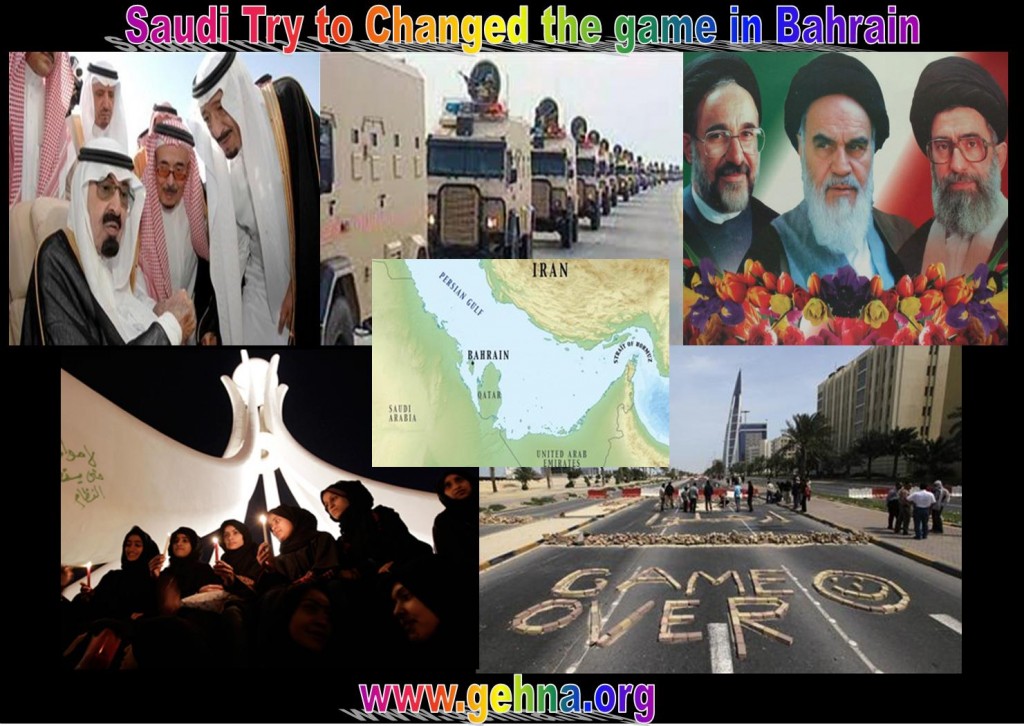 The over 230 years old  ruling  Bahrain's Sunni dynasty  called Saudi Arabia and the United Arab Emirates to stop the social revolution. They dispatched forces to Bahrain on Monday to put down weeks of protests by the country's Shi'ite Muslim majority. Opponents and Iran called the move a declaration of war; others called it pure annexation of the Island kingdom. On arrival the protestors way of welcoming the 100 strong Saudi soldiers by shooting one dead.  The king reacted by declaring a three month   emergency rule all over the island.
[media id=350 width=320 height=240]
The home of the US Navy's Fifth Fleet, the White House said Monday it did not consider the Saudi entry into Bahrain an invasion. "We urge the government of Bahrain, as we have repeatedly, as well as other GCC countries, to exercise restraint."
Bahrain would be occupied for the coming unknown period by the   Saudi soldiers in fear of the concessions by the country's monarchy to the Shi'ite.   The Saudi Sunnite Kings are in fear of the revolt from Bahrain to spreading   to her Eastern Province, which is inhabited by Shift and the center of the Saudi oil industry.
"They are part of the Gulf Cooperation Council (GCC) force that would guard the government installations," referring to the six-member bloc that coordinates military and economic policy in the world's top oil-exporting region. Bahrain said on Monday it had asked the Gulf troops for support in line with a GCC defense pact. The Gulf Cooperation Council comprises Bahrain, Oman, Qatar, Kuwait, Saudi Arabia and the United Arab Emirates.
The UAE sent about 500 police officers into Bahrain, Emirati Foreign Minister Sheikh Abdullah bin Zayed al-Nahayan said.
"The Bahraini government asked us yesterday to look at ways to help them to defuse the tension," he said.
"Other Gulf countries will also participate to get calm and order in Bahrain," said Sheikh Abdullah, in Paris for a meeting of G8 foreign ministers.
Bahrain has been gripped by its worst unrest since the 1990s after protesters took to the streets last month, inspired by uprisings that toppled the leaders of Egypt and Tunisia. Thousands are still camped out at the Pearl roundabout, having returned since the army cleared out the area last month.
Any intervention by Gulf Arab troops in Bahrain is highly sensitive on the island, where the Shiite Muslim majority complains of discrimination by the Sunni Muslim royal family. The whole world is waiting   the move of Iran  in reaction   to the move of  Saudis in the defense of the Minority Sunnite In Bahrain, the Island populated by majority Shi'ite in revolt?.