Norway is known traditionally  home for Ethiopian asylum seekers.    The recent position of the Norwegian office for asylum towards Ethiopian refugees is more   xenophobic  than tolerance and solidarity. Many Ethiopian Asylum seeks are languishing in status no man's land. They live in a daily fear of deportation to the land of the dictatorial regime of Melese Zenawi in Ethiopia.  Over 50 Ethiopians forced themselves in a cold Nordic winter to camp inside an old -old cathedral to show to the world there in human situation in the country that once champion human rights. Today the growth the extreme right in the Norwegian political arena has changed  the  country's  socio political atmosphere by increasing   Islamophilia, intolerant and widespread xenophobia.
The hopeless Ethiopians in the country who came expecting to receive asylum  are  today menaced to be deported  have  decided to camp  in this old  cathedral undergoing renovation indoors so their living conditions are far from comfortable,with a lack of sanitation facilities and cold stone floors and pews for makeshift beds.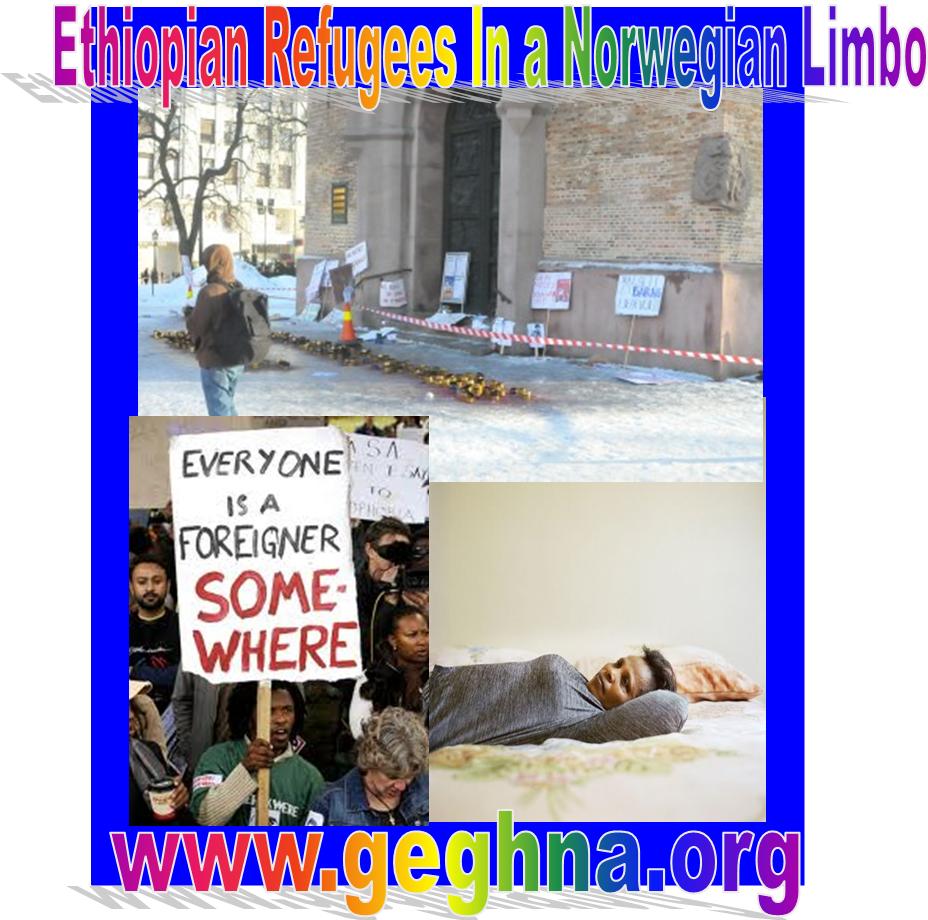 These  inhumanly rejected  refugees refused  to eat or drink and started hunger strike in a bitter  Scandinavian weather in 400 years  old  cathedral  which seems undergone several years of major renovations, but the work is not finished yet inside because of budget constraints.
The Ethiopians found themselves between the hammer and the hard things due to the recent worming up of the Norwegian and Ethiopian regime relations after a big fall out which forced the host country to sever  diplomatic relation with the Ethiopian Dictator. The refugees are freezing with no warm water supplies, no kitchen only one half working toilet.
The Ethiopians seem determined in their cause. Around 400 of their supporters demonstrated on Monday to protest the handling of their asylum applications by Norwegian immigration officials. The rejected refugees claim they have not been evaluated individually.
"We live in fear that we'll be sent back," Bizualem Beza, a spokesperson for the group, told "We believe our applications haven't been properly handled."
Immigration authorities dispute that, with Hanne Jendal of immigration agency UDI claiming they have been thoroughly evaluated. "They have received individual and thorough treatment at all levels," Jendal told "There's never been any collective evaluation of this group."
Beza hopes the authorities will review their cases again. "Many of us have lived here for many years," Beza said. "We have worked, started families and found homes. Suddenly all that may be taken away." Beza claims the refugees fear harassment or worse back in Ethiopia because of their own or their family members' political ties.
They are in precarious situation including some pregnant women continuing their hunger strike.
Two were taken to an emergency clinic late last week suffering from lack of nutrition and exhaustion. Church officials held Sunday services as usual and many of the Ethiopian refugees participated. On Monday, they agreed to leave the church in return for promises that they will be granted new meetings with Norwegian immigration authorities.
"The authorities wouldn't meet us until all the demonstrators were out of the church," Bizualem Beza, who initially functioned as a spokesman for the group, told Norwegian Broadcasting. A meeting now will be held at the office of Oslo Bishop Ole Kristian Kvarme, with representatives from the Justice Ministry and immigration agencies UDI and UNE.
The authorities have determined that the Ethiopians didn't meet requirements for asylum and want them to return to Ethiopia. The refugees fear political reprisal back home and have refused to leave voluntarily. The Norwegians, meanwhile, have no agreements in place with Ethiopian authorities to arrange deportation, at least officially but there is an understanding.
That has left the rejected refugees in a difficult situation in Norway, as undocumented and unable to work legally, although many have managed to live in the country for years and work illegally.
Beza apologized for causing disruption for the church. "But we were so afraid and desperate," he said, joining fellow refugees in thanking church officials, aid organizations and the media for the attention they received for their cause.
The following tube is the best example the growing  xenophobic atmosphere  in  Norway against the third world immigrants –
Let us here  Norway from the Norwegians :-
Related