Two Decades and Counting But Stability Still Eludes Somalia
German military security firm helps Somali warlord
Monday, 24 May 2010
German lawmakers have voiced concern about a deal between a German military security firm and a warlord hostile to the UN-backed government in Somalia.
Asgaard German Security Group, which hires former German troops, has signed a contract with Abdinur Ahmed Darman, who claims to be the Somali president.
Rival militias have turned the capital Mogadishu into a killing zone
MPs from three German parties said the deal would aggravate the conflict in Somalia and violate UN sanctions.
But a BBC reporter in Somalia says Mr Darman is a marginal figure in the war.
Mr Darman declared himself president in 2003, but has not lived in the country for about five years, and is regarded by most Somalis as a publicity seeker, the BBC's Mohamed Moalimuu reports from the capital Mogadishu.
Preparing for power
Asgaard says it will provide services, including military training, only when Mr Darman becomes the country's leader.
Mr Darman's Republican Party has an office in Mogadishu and occasionally issues statements – referring to Mr Darman as president – but is not considered a major political player.
"As soon as he assumes control of state affairs again, with the approval of the UN, Asgaard GSG will take charge of training, equipping and supplying the fire service, public health service and disaster control, as well as the police and military," a statement on Asgaard's website said.
"We want to do this in close co-operation with the German government, and we are in no way acting against their interests. At this point there are no German citizens in Somalia at the instigation of Asgaard GSG."
Somalia has been racked by violence for more than two decades.
A leading German MP in the left-wing Linke party, Paul Schaefer, said Asgaard's deal was worrying "because it's a kind of shadow foreign policy, beyond parliamentary control".
A German liberal FDP politician, Rainer Stinner, said such a deal "clearly violates" UN sanctions prohibiting arms deliveries or training for Somali militias.
Islamist insurgency
Islamist groups control much of the south of the country, with the UN-backed transitional government headed by President Sheikh Sharif Sheikh Ahmed limited to small parts of the capital.
President Ahmed – a former insurgent leader who was elected by Somali MPs in January 2009 – is in Turkey for a peace conference, where he told the BBC how he intended to tackle the Islamists.
He said he wanted to build up a government army while offering an olive branch to radicals who might be turned.
But the BBC's Mark Doyle in Istanbul says it is far from clear if the president, described in the West as a moderate, will prevail.
He has Western support now, because Washington hopes he will keep al-Qaeda at bay in East Africa, but
Western support is a poisoned chalice in nationalist Somalia, he says.
————————————–
@@
————————————–
U.S. destroyer shadows ship under pirate control
By the CNN Wire Staff
May 24, 2010
(CNN) — A U.S. destroyer is shadowing a ship off the coast of Somalia after it was taken over by 50 pirates, authorities said.
The M/V Iceberg was identified last week after the USS McFaul conducted a 36-hour surveillance mission, the multi-national Combined Maritime Forces said in a statement. The USS McFaul began shadowing the Panamanian-flagged vessel May 19 before the M/V Iceberg reversed course and began heading toward the Somali coast.
"We cannot be sure what the pirates' plan was if they had not been interrupted," said Rear Adm. Beom Rim Lee, commander of the Combined Maritime Forces task force.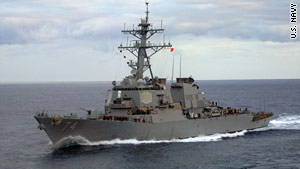 "The vessel may have been on its way to either assist other pirates in distress, or look for another merchant vessel to attack," he said.
The M/V Iceberg was last been seen off the coast of the Somali town of Garacaad, a known pirate haven, but its exact location was unknown until USS McFaul positively identified it. "Further investigation showed the name of the ship had been crudely painted over" in an effort to disguise it, which caused confusion in identifying it, the Combined Maritime Forces statement said.
The USS McFaul had initially requested to board the ship to check on the crew. The M/V Iceberg denied it had been taken over, saying it was having mechanical difficulties. Eventually, crew members radioed back saying they had been taken hostage by heavily armed pirates, officials said.
The M/V Iceberg has a crew of 24 from Yemen, India, Ghana, Sudan, Pakistan and the Philippines, officials said.
Cmdr. Ronald W. Toland, Jr., commanding officer of USS McFaul, said he tried to ensure the safety of the crew first.
"Given the report of heavily armed pirates on board, it was more prudent to monitor the ship's movement, rather than attempt a rescue," he said.